2017 NH Trout Camp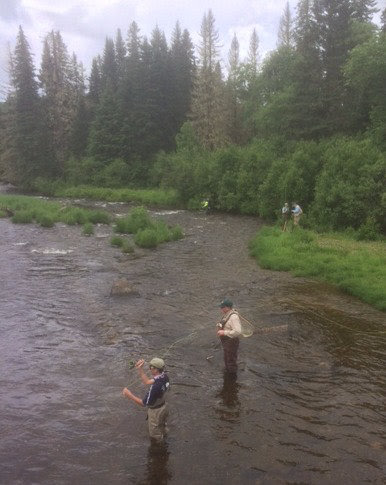 Our 2017 Trout Camper, Skyler Fortin, submitted this note on her experiences at the 2017 NH Trout Unlimited Trout Camp. Thanks to all the members who have supported the efftort the chapter puts forth in sending young peope to the camp.
"Trout camp was great! We went fishing on the Connecticut River up near Pittsburg New Hampshire and the fishing was really fun. I caught around three or four fish. The show "North Woods Law" also came with Fish and Game and we got to help stock the river and might be on one of the shows. We also got a chance to help with river shocking. There was a pole and a "rat-tail" which was connected to the battery. If both the pole and the rat-tail were in the water at the same time it would create an electrical charge that would travel about two feet away from the pole. If someone were to fall in (which two people did, I myself was one of them) we would yell "out!" and the people controlling the pole would quickly take the pole out of the water because if the pole was not in the water, then there would not be an electrical charge.
We were also taught about the bugs that the fish liked to eat, what water the bugs tolerated, and how to tell which fly to tie when we saw which bugs were flying around. We also learned how to tie flies which was a really fun and cool activity.
All in all it was a great mixture of enviornmentalism, fly fishing and fun. I hope to go back next year and learn even more. I plan, if I can to go back until I am un able to. 
They set me up really well, sending me home with a range of goodies. Including, hats, vests, flies, fly tying kits, panphlets, and my own fly rod.
Thank you, and the Monadnock Chapter so much for making it possible for me to go. I'm hooked on fly fishing ;) "
Here is a link to pictures from this year's Trout Camp